If you are looking for counselling in Exeter but live to the East of Exeter and would prefer not to go into the city, then you might like to consider counselling at my practice, Counselling South West, situated in Axminster.  My practice is easy to find and there is parking on the road outside or nearby. I have clients who travel from Exeter, Exmouth, Collumpton and Budleigh Salterton, Taunton and Bridport, as well as from the local surrounding areas.
Axminster is a charming small country town and my clients often visit the shops and cafes in the centre, five minutes' walk away. Hugh Fearnley-Whittingstall's River Cottage Canteen is a popular place for a coffee or lunch if you would like to relax before or after your appointment.
Welcome to Counselling South West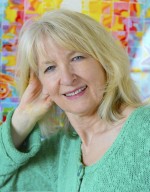 If this is the first time you have had counselling then this is a new experience and may be wondering what to look for. If you have had counselling before then you will be familiar with the process but still wanting to choose the counsellor who is right for you. I offer an experienced and professional counselling service having had twenty years' experience.
I aim to offer a calm, comfortable and confidential environment in which I hope you will be able to relax and start to build a therapeutic relationship with me. I believe this is very important for the counselling process to be successful. My clients often say how surprised they are at how quickly they feel at ease and are able to talk about difficult issues, helped by a friendly and non-judgemental or critical response.
Counselling South west is in a convenient position, five minutes' walk from the train station and bus stop, and five minutes into the town centre.
About me
I have spent twenty years counselling and four years training, three of those were with Relate. Although I still do a few hours for Relate, I now have a private practice in Axminster where I offer experienced, affordable and flexible counselling in a central position for East Devon, South Somerset and West Dorset.
I feel a great sense of privilege to be in the counselling profession, where on a daily basis, I am able to help people turn their lives around. I feel that all my training and experience, combined with my own personal successes and failures, happiness and sadness, all add to what I can offer my clients in their counselling experience with me. I also believe that our therapeutic relationship is at the heart of our counselling and greatly affects its success, which is why it is so important.   
What is counselling and how long will it last?
Counselling is a process which takes a different amount of time for each person. Occasionally it can take only one or two sessions if a person just wants clarity or help with a specific decision to be made. Usually it is a process which involves an exploration of the problem you are coming with and the back ground and origination of it. This will often mean also looking at your life experiences to date, but only in respect to gaining understanding and insight into what is happening for you now. Then any necessary changes will be considered. These can happen quickly or be more protracted, depending on the individual and how deep seated and difficult they are to overcome.
Counselling sessions are usually weekly to start with and then may reduce to fortnightly and monthly then end. This will be when clients feel they have reached a resolution and feel they have the tools to manage on their own. If clients travel a distance for counselling then the intervals can be varied to accommodate time and availability.
.